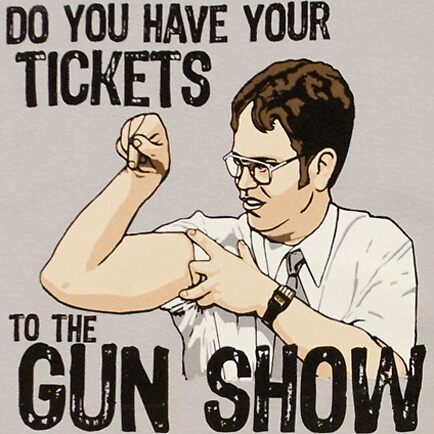 I billed this workout as something that your upper body would be sore. With that, I will provide you with this free ticket to the gun show.
I arrived this morning with a crispness in the air. Fall is right around the corner, and it feels fabulous. There to enjoy the morning with me was:
Time Share
Bulliten
Holy Roller
Buckshot
Honey Do
Flex Seal
Single Source
Deputy Dog
Boss Hog
Virginia Slim
Lambaeu
Verbal
Yankovic
Jolly Rancher
Captain Crunchberry (QIC)
Quack was supposed to be there. He wasn't. While composing this, he has texted that he pulled the rookie move and set his alarm for PM versus AM. While there was a screenshot to verify, we will see if it happens again.
COP was simple, SSH, Abe Vigodas, Hillbillies, Kendra Newmans, straight into Michael Phelps.
To start, we did a TABATA with Dr. Dre leading the charge. I can't imagine why, but Yankovic was unfamiliar with Dr. Dre's rendition, or what a "true" TABATA is. Don't get Meter Maid started… With did alternating exercises with Curls and Skull Crushers. The mummblechatter was so overwhelming, it was hard to hear the good Doctor. We somehow managed to get that "last one, best one." Then proceeded to mosey with our coupons down the lot to the second crosswalk.
We spread out, and performed a few different across the lot exercises.
Exercise #1 – Bear Crawl across the lot, and for every 4 Bear Crawls, we did one merkin.
Exercise #2 – Bear Crawl with the coupon. Basically pull the coupon in front of you, then Bear Crawl until it is at your feet. Reach back, and pull it to in front of you. Then do a merkin. Rinse and repeat across the lot and back.
Took a short mosey around the ball field to get the guns time to cool.
Exercise #3 – Same as exercise #1, only we did Burpees every 8 crawls.
Exercise #4 – Sideways Bear Crawl with coupon drag. Pretty straight forward here. Only thing to note is we always faced the same way, so you would pull through with your right arm first, and return trip with your left.
Took our coupons back to the starting location, for round 2 of TABATA. This TABATA we would alternate between overhead press and rows (PAX choice of bent over row, or up right, or in Jolly's case, single arm, bent over row. But don't worry Crockpot, he alternated arms.)
To finish it off, we did 10 bench press, short mosey to the entrance, 10 air press, and back. Rinse and repeat until MARY.
For MARY, I started with weighted coupon V-ups. The idea here was to go slow. We then did American Hammers, Flutter Kicks, Big Boy Situps, and lastly we did coupon pull throughs (left to right and back) while holding plank for the last 45 seconds.
ANNOUNCEMENTS: Fall Festival at Le Pews on October 16. Ask around for details if you don't know them. Le Pew only checks Slack on a bi-weekly basis I think.
INTENTIONS: Boss Hog asked for prayers and support for Deputy Dog (and all LEOs.) For those that haven't met him yet, he has only posted a handful of times, but he is one of the boys in blue. A civil servant, a protector of the people. I always think that Oldham County is a "safe" place. We have our own little bubble, and the crazy stuff that happens around us, doesn't actually happen in Oldham County. But, that really isn't the case. Crazy is everywhere, and if you don't believe me, ask him.
NAKED MAN MOLESKIN: For those new to my Backblasts, I got this from Crockpot. I think it's intentions is to share more about feelings of the workout. I generally put my two cents in here. I originally planned do only 2 of those, and making multiple trips across the lot. But they proved to rather monotonous, so I called an audible, and changed them up as much as I could. While I know I will feel this workout later, I didn't walk away with my arms dragging like I thought I would.
Until next time…