Back to school always meant back to the playground, where we would test our speed and agility while avoiding lava and slaying the latest animated monsters. We would end recess red faced and soaked in sweat. Today, back to school at Bayside would be no different.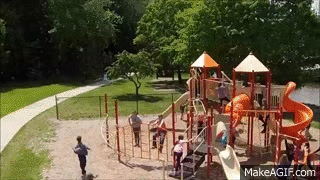 8 PAX showed up, including Firing Pin for a little before school action. 6th grade and this young man is learning the value of get the hard thing done early. Birdie, Charolais, Borland, Banana Bread, Ruby, and Blue Screen joined YHC in the gloom.
I think the weather app said we were sitting close to 80 but the humidity was through the roof.
We did a little COP to get warmed up and to get the sweat glands activated. After that we took a short mosey to the playground around the back of the school. The last time I recall trying to incorporate the playground, it was ice over and an audible was called. That wouldn't be an issue today.
YHC called today's Thang a Double Dog Dora. Standard Dora counts of 100, 200 and 300 but we went up and back down from 300, 200 and closed with 100. While P1 was doing the exercise, P2 ran Gassers on the basketball court.
– Vertical Shoulder Taps
– Dips
– Angry Chair
– Blades of Steel (300 of these sucked!)
– Reverse Merkin (Hang near horizontal and pull up for the merkin)
– Hanging Shoulder Shrug
Most of the PAX finished just in time. We gathered up the gear and moseyed back to the flag. We planked for the six and then took a minute to slow our breathing back down and stretched whatever we needed.
COR, NOR, Announcements (F3on3 B-Ball), Intentions (New parents, the struggle of leading with grace, compassion and humility, and prayers for the leaders from classrooms to the nation)
We had a blast taking back to the playground and these men were clearly giant slayers today! As always, it was an honor to lead.
Until Next Time,
Squid