Before the workout, I had to go get my passport renewed to make sure I'd be able to clear customs to get inside of the Watterson Expressway. It was great getting out to where this thing all started – and it always is a good time. And, January 15, 2022 was no different.
It all started with the pre-ruck led by Handbook. He didn't say anything about bringing golf clubs with you, and I still have no idea where the hell we rucked to and from – but sure as hell if we didn't walk right back to our cars 3.5 miles later right at 6:45am as he told us he would. Master rucker right there, boys. We had 14 for the pre-ruck, which was awesome and rumor has it a record.
Then, some of the ruckers snuck out and some other PAX decided to join us. All in all, we would have 20 for The Ruiner, which may be another record at least in 2022. I'll take it.
I welcomed everyone with the obligatory fist bump, including Frosty who was posting Down Range from Birmingham. Time was called and we moved over to the tennis courts where disclaimers were provided to the following PAX:
Harry Carry
Shyster
Old Bay
Hot Wheels
Frost (R)(DR)
Gomer
Tron
Handbook
Husky (R)
BigBird
Motorboat
Russdiculous
Dot (R)
Sputnik
Fergie
Porkchop
Diablo
Sump Pump (R)
Worm (partial credit – more on that below)
Jolly Rancher (Q)
COP:
The normal Jolly Rancher fanfare, which was much more challenging than normal as there was A LOT of mumblechatter going on. At some point, I gave up on the cadence and moved to the next exercise, but they included:
SSH
Downward Dog + Runners Stretches
Toy Soldiers
Grass Grabbers
Hillbillies
We then took a lap around the tennis courts and came back for the one and only thang.
The Thang – Ladder:
This was a traditional ladder where you complete the first exercise, then run to the other end of the tennis courts and then complete the first and second exercise, then run to the end, etc., etc. The rungs of the ladder were somewhat non-traditional in that they weren't all weight lifting – so, a little dose of cardio in there at times. They included:
5x – Merkins
10x – Broad Jumps
15x – Overhead Presses
20x – Bear Crawls
25x – Squats
30x – Skull Crushers
35x – Lunges
40x – Curls
45x – Big Boy Sit Ups
50x – SSH
Goal was when you got to the top, either help out your neighbor or come on back down the ladder. All in all, the PAX were crushing it – or, at least it was dark enough that I couldn't notice. Then, the horizon started to open up and things got a little bit brighter. A little bit lighter. And then I noticed some of the PAX actually weren't working as hard as I thought – not sure if it was the weinke, the mumblechatter, or what.
But then, we all witnessed something incredible. Something marvelous. Something that only happens once in a post. At first, what looked like a simple "all you got" competition of two PAX going head-to-head on the mosey back to the starting point. It was an all out sprint between Motorboat and Worm.
The first round wasn't really a competition. Motorboat was MOTORBOATING man – he was full steam ahead. Worm was still trying to crawl out of the ground from the beginning.
But, Worm must have eaten some Wheaties in between the rungs of the ladder because the second friendly competition was much different. As a PAX near me said, "It looks like Worm beat him by the gut." And it was so. Barely sneaked out the win.
It was all good until at some point I looked down and Worm was leaning on the fence. Was he winded? Or was he hurt? Or, was he just being Worm and not wanting to work out and just talk instead. Then I overheard him ask someone for water. So, off goes Motorboat again – motorboating to his car for a bottle of water for him. Then Worm lays down and rests his feet on his coupon. Man, this doesn't look good.
So, naturally, I summoned Dr. Porkchop to run over and make sure he's okay. And then, about 5-minutes later an ambulance came by…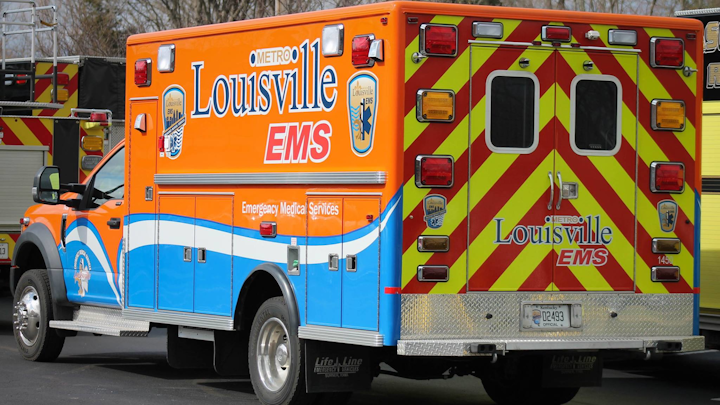 Luckily they didn't stop and they kept going [prayers for whatever business they had to do], which means Worm was going to make it. Hot Wheels and Motorboat helped him to his car and all was well. Unfortunately, this cost Worm half a post because he only receives partial credit for this according to Tron.
For those interested parties, I checked on Worm Saturday evening – he seemed good though things were a bit tender from what appears to be a possible hyperextension. Heal up, brother – and thanks for being a good sport with the PAX giving you a hard time.
I called time and we circled up for two minutes of Mary.
COT:
Countarama, namearama, announcements and prayer requests. Remember about the banquet on January 28 and the upcoming ruck on January 22. SIGN UP. JUST DO IT.
Always humbled to lead!
Jolly Rancher out!