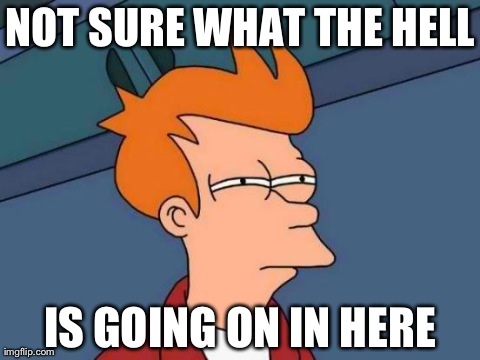 Well, that was interesting.  YHC rolled up to the O to welcome an FNG who didn't show up.  You know who else didn't show up?  THE GHOST Q!  Someone posted "Ghost Q" on the calendar, but didn't remember to maybe MARK IT DOWN on their own calendar!  So, as a Posh, who didn't post with the other Poshies at the Mutt on the (failed) attempt for the Ghost Flag (#sl), I was suspect as the Ghost Q for the O.  Well, I assure you, I was not planning on Qing, but hey, it's fun to Q, so I said "what the hell, let's do this!"
Then as soon as I volunteered to Q, a bunch of guys ran away to head to the Mutt for the (successful) capture of the ghost flag (#sl).  That didn't hurt….
The PAX that stayed: 12 HIMs- Star Child (Q), Red Roof, Nugget, Scratch, Bean Counter, Road Trip (it was an honor to meet you!), Butcher, plethora (great to meet you man!), Glen Ross, gillespie, Cardinal, Antman.
Well, I will first point out that I was obviously not prepared with a Weinke, so I am going to give you a general idea of what went down….  And some highlights of the melting pot of crap I threw at the PAX.
COP- We moseyed on over to the basketball courts for 100 SSH.  This gave me a little (lot) of time to think about what I was going to do for 45 minutes…  Then I added in a little groiners, some imperial walkers, and Kendra Newmans.
Thang 1-
We partnered up.  One partner crossed the court in exercise while the other waited and did another exercise.
Bear Crwal/Squat
Lunge jump/merkins?
something else/something else  (I told you, I cant remember)
Thang 2-
We ran to school (not Holy Trinity, CAL…) for some 3 team tag team.  We declined merkined, we dipped, we did some step ups.  But the most memorable part was the BENCHWORM!  All I asked of the PAX was to try 10 benchworms, and they didnt like me much.  Well, that's the point!  Benchworms are a bitchworm..  Decline merkin, then hand walk towards your feet for a Carolina Dry Dock.  Rinse and repeat 10 times.  It aint for the faint of heart.
Thang 3-
When I visited Franklin TN, two HIMs were preworking out by doing 13 burpees in one minute, for 10 minutes.  Well, that takes a LOT of stamina, and I didnt want to kill anyone, so we did 8 burpees/minute for 6 minutes.
Something about Mary-
We moseyed over close to the bathrooms for some leg throw downs and American Hammers (SLOW), and then I called it a wrap.  It was awesome to Q, so thanks to the absent minded HIM that forgot to post on his own Q.  Things work out, especially in F3.
COT-
I called everyone out in prayer as we do, but I want to mention something on this BB.  When I started F3, there were maybe 8-10 regular HIMs throughout the week, and ONE Q.  RedRoof Qed for a very long time, and never complained.  He offered up some great, creative bags of tricks, of which I pulled out this morning.  RedRoof also founded this AO while having a newborn at home.  It was NOT easy on him.  I truly believe that we would not have F3 Louisville without him.  So RR, thanks buddy.  This has been one hell of a ride.