7 PAX showed up in light rain and 55°F temp for a very presidential workout at The Bag of Wrenches at the O.  Flo Jo, Tammy Faye Baker, Frankenbaby, Trojan, Violet, Handbook, Escort.
We started off at the tennis courts with 45 SSH in cadence, and the PAX were challenged to name the president for each SSH.  For example, the first SSH would be George Washington, and the 45th would be Trump.  We quickly realized… at SSH #3, I think… that none of us were "A" students in social studies.  After that, we rounded off the warm-up with some back, arm, shoulder, and neck stretches intermingled with more yoga than anyone wanted + 45 Merkins in honor of our 45 American presidents.
We stayed on the tennis courts and did 44 Bobby Hurley's in honor of Obama's (#44) mad basketball skills, lunge walk across the 4 courts in honor of Truman's bowling alley in the White House, high knees back in honor of Kennedy's Harvard football action, then 38 line jumps in honor of Ford's (#38) snow ski hobby, and finished that part of the workout with more Truman Lunges and Kennedy high knees.
Next we ran a half mile as hard as we could in honor of Dubya's sub-4 hour marathon when he was in his 30s, then moseyed like Clinton the half mile back to the tennis courts for another 44 Obamas, and another round of Trumans and Kennedys.
We finished the workout with each of us taking turns as the 46th president for one minute, while the rest of us were the security detail following the president's every move and laughing at their jokes.  Al Gore even made an appearance.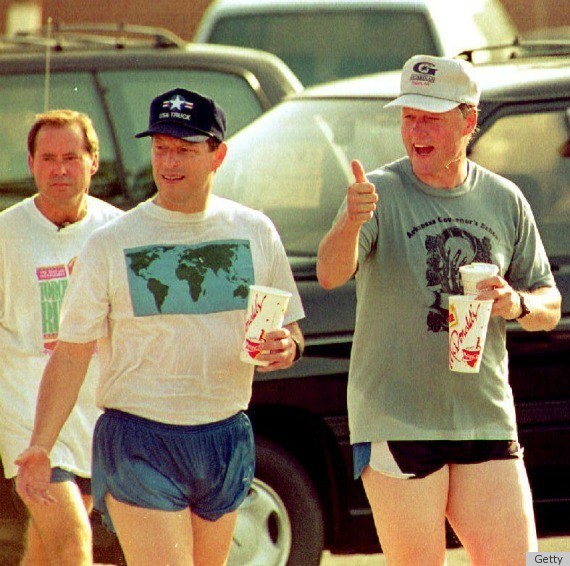 We ended in COT with a prayer that we can be better leaders than our leaders.
S.Y.I.T.G.
Escort